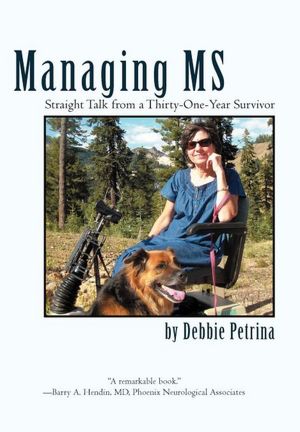 "My Eleventh Commandment"
If you have read my book Managing MS: Straight Talk…, you know about my own ten commandments I follow to manage my MS. I'm adding another one. As I was walking my dog around the neighborhood today, I reflected on how important my neighbors are to me. When I moved from Pittsburgh to Arizona in 2001, I lived alone for several years since my husband couldn't join me until he retired. Being a planner and organizer, the first thing I did after settling in was become a co-director of our volunteer neighborhood block-watch program. I hosted the committee meetings and arranged quarterly weekend social events. The result? I immediately met and got to know everyone living around me. I made good friends, I found professionals (a mechanic, an a/c and heating technician, a computer guru, a lawyer…) and I felt safe. My dog and I have walked and patrolled the neighborhood daily for all these years, and if people don't see me for a few days, they're wondering why.
When a new neighbor moves in, I want to meet them. Recently, a new neighbor was putting the finishing touches on a new paint job for his new house. I introduced myself and told him how much I liked the color. It was instant rapport!
I love my neighbors, and can count on them if I/we need something, and vice versa. One terribly hot summer morning, my air conditioner stopped working. My a/c technician neighbor came to fix it within the hour I called. Another time when my husband was back East, I accidently pulled my Christmas tree over with my power chair at ten o'clock in the evening. I was surrounded by broken bulbs and lights! My girlfriend across the street came over immediately and picked it all up for me. If I'm home alone and I need assistance, I have a phone around me at all times so that I can call someone for help. They can get into my house by using the security-code keypad on my garage door. Many of our neighbors now are not only friends; they are like family to us and to each other. They are invaluable to me.
www.DebbieMS.com
Author, MS Counselor, Living with MS